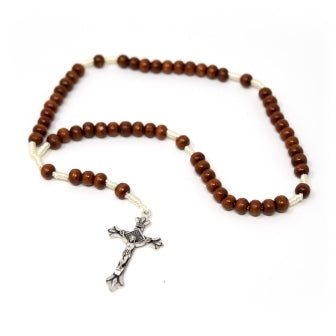 PRAY TOGETHER NOW Rosary
Each of the PRAY TOGETHER NOW Family Prayer Kits include 5 of these beautiful wooden Rosaries made in Italy for the PRAY TOGETHER NOW Movement. If you need more for your family, your prayer group or to give as gifts to inspire others, you may order them here.


Inspired by Venerable Patrick Peyton and the release of the documentary, PRAY: THE STORY OF PATRICK PEYTON, the PRAY TOGETHER NOW Movement exists to spread awareness of the beneficial power and lasting effect of praying together. The world needs the power of prayer more than ever.


We hope you will commit to praying together with your family and loved ones. Let's change the world remembering Father Peyton's famous message, "A world at prayer is a world at peace."


We invite you to be part of 10 million people praying together for 35 days to grow in intimacy with God and each other. After 35 days of prayers, you'll want to continue and we provide more information on our website to do so! For more info about the PRAY TOGETHER NOW Movement, click the link below.