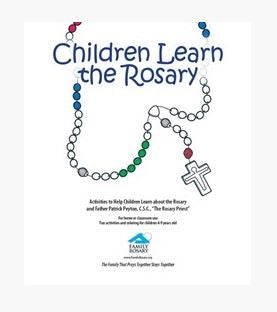 Children Learn the Rosary Activity Binder
Easy to teach and fun to learn! Help children learn and appreciate the Rosary.

• For home or classroom
• Fun activities and coloring for children 4-9 years old
• Includes Parent/Teacher Guide and recommended family activities
• Includes permission to reproduce activity sheets for each child!


The Rosary reminds us of the stories of Jesus' life through the eyes of his mother, Mary.
Learning to pray the Rosary, children discover that Jesus also experienced joyful, luminous, sorrowful and glorious times in his life.

Children will learn:

• About Father Peyton and why he was called the "Rosary Priest".
• Prayers of the Rosary.
• Mysteries of the Rosary – the stories of Jesus' life.
• How to Pray the Rosary.
• To experience the joy and comfort of Rosary prayer as a foundation for a strong spiritual life.
• To grow in their faith and pray with their family.

Each lesson contains:

• Scripture.
• Activities to further explore the stories of Jesus' life.
• Activities to help children apply Jesus's stories to their own lives.
• Recommended family activities.

The activity binder includes:

• 28-page Parent/Teacher Guide.
• 24 pages of coloring and activities for each of the 4 sets of Mysteries .
• 5 pages of activities about Father Peyton.